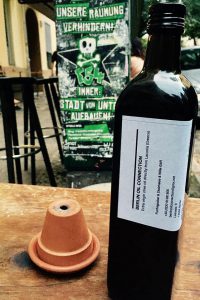 We invite you to our first popup market to sale our olive oil.
The olive oil is extra virgin and hand-picked in the region of Lakonia in the south of Greece. Please just tell us before what and how much you want. Just make a comment in this event.
You can pick it up on Saturday in Laidak.
You can also taste the olive oil on site. Just write that our product is not yet known to you and you are still interested in it.
Because we have no other options yet, payment is actually only possible in cash. Sorry folks!
at Laidak Boddinstrasse 46, November 3rd 15.00 – 18.30
You can always contact us